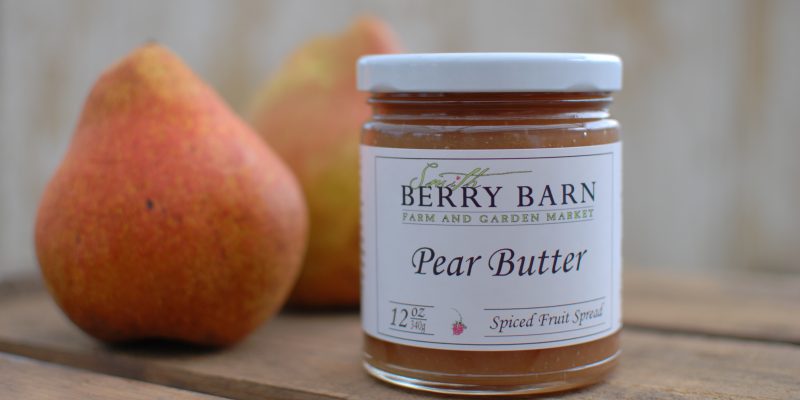 1 1/3

cups

all purpose flour

(unbleached)

1 1/4

cups

oatmeal

(quick-cooking)

1/3

cup

sugar

1/3

cup

brown sugar

(packed)

1/4

tsp

baking soda

1/4

tsp

salt

1/3

tsp

ground ginger

1/2

cup

chopped pecans

3/4

cup

unsalted butter

(softened)

1

cup

pear butter

(Smith Berry Barn)
Preheat oven to 350 degrees. Prepare a 9" x 9" baking dish (see note below).

Mix flour, oats, sugars, baking soda, salt, ginger and nuts, using electric mixer on low speed until incorporated.

Cut butter into pieces and add to mixer while running on low speed. Continue to mix until butter becomes fully blended in and mixture looks crumbly.

Measure 3 loosely packed cups of mixture into baking pan and press evenly into the bottom of the pan. Bake the crust until lightly browned, approximately 20 minutes.

Remove baking pan from oven and carefully spread pear butter over crust, making sure to cover entire surface, all the way to the edges.

Sprinkle the remaining crumb topping in an even layer over the pear butter.

Return baking dish to oven and bake until topping is golden brown and filling begins to bubble, approximately 30 minutes.

Allow pan to cool completely before cutting bars into squares. For best results, use a pastry scraper/cutter to cut evenly into 1" squares.
To prepare a baking dish for easy removal of bar cookies:?? First, prepare pan with butter or cooking spray.?? Cut two sheets of parchment paper that measure several inches larger than the pan you're using.?? Lay each piece of paper in pan and make crease marks on two opposing edges of pan to mark your fold lines.?? Remove paper and fold each side at fold lines.?? Place paper with open folded edges face down in pan and fold long edges up the side of the pan.?? Repeat with second sheet of parchment, laying it in pan the opposite direction.?? You should have four edges sticking up out of the pan and, once filled with the dough and baked, will come out very easily by simply lifting the edges of the paper, up and out of the pan.?? Voila!